CustomerGauge Closes the B2B CX Gap with Account Experience Solution
CustomerGauge, a software-as-a-service platform that helps clients improve and monetize the customer experience, revealed new enterprise-ready features in their Account Experience(TM) solution to address the underserved complexities of B2B CX programs.
April 24, Boston — Originally announced to the general public at their March 2019 Monetize! Amsterdam conference, CustomerGauge's Account ExperienceTM solution will empower B2B enterprises to harness their digital transformation to interpret—and anticipate—customer needs and account sentiment at scale. This dedicated B2B CX solution will also enable organizations to identify additional revenue streams and grow existing accounts.
"When you work with 'million-dollar' B2B customer accounts, the value of customer experience data is critically important. For years, B2B companies have had to rely on CX tools oriented for consumer B2C experiences, which fall short of the multi-contact and hierarchical complexities that is the reality of B2B relationships. In a field revolving around B2C CX solutions, CustomerGauge is introducing Account Experience—the future of B2B CX. "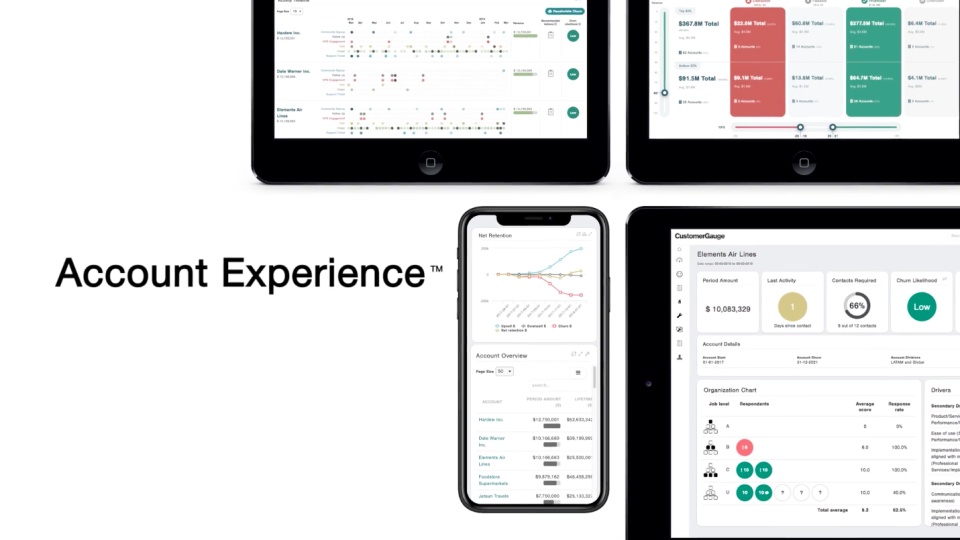 CustomerGauge's AX solution, purpose-built to support the needs of B2B companies and their sophisticated organizational hierarchies, includes:
Intelligent account management toolkit that directs which accounts to prioritize based on revenue
Account Vitals, which offers real-time tracking of multiple sources of operational data to help visualize account level engagement within an organization
Sentiment measurement and closing the loop at the account level
Financial impact of NPS® loyalty buckets and customer lifecycle management
What-if strategic revenue simulation to see how CX efforts impact revenue
Advanced driver analysis to recommend improvements that will have the greatest impact on ROI and CX
Rescue & Growth Solution:
Strategic tools to rescue at-risk customers and track account growth
Real-time retention & churn indicators
About CustomerGauge
CustomerGauge is a software-as-a-service platform that helps clients improve and monetize their B2B Account Experience. The system automatically measures and analyzes feedback, reduces churn through close-loop tools, and helps retain accounts. Results are published and analyzed in real-time, using a highly customizable reporting tool, making it ideal for businesses—from fast-growing SaaS companies to global enterprises. For more information, visit www.customergauge.com